An Argument for Luka Modric
Today Luka Modric ended the decade long reign of Lionel Messi and Cristiano Ronaldo as the FIFA Men's Player of the year, and it has definitely caused a stir to say the least. Plenty of people think that the two behemoths of the sport deserved it more, and there are arguments for both Ronaldo and Messi to have won it again this year. They'll go down in history as more memorable than the Croat, and they have the statistics that won't be broken for the foreseeable future. However, I want to lay down an argument that Luka Modric deserved the award this year. First, some ground rules: this won't touch some of the other shocking decisions from the committee this season, like Dani Alves being included in the World XI for no reason, and Salah's goal vs. Everton winning the Puskas when there were way better goals up for selection. There's a time and place to argue against those decisions, but I think they got this one right.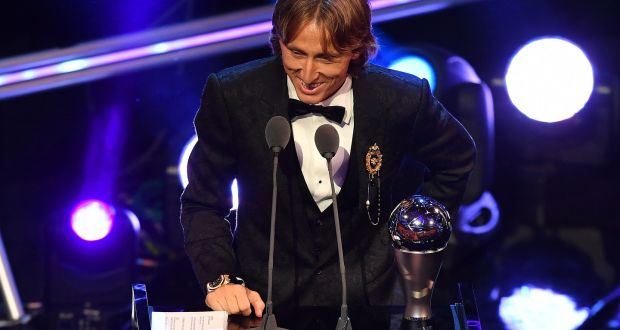 My argument really falls on the one basis that statistics don't paint the whole picture. Context is crucial, and taking everything into account, especially for a whole season, can be difficult to do. There's a quote I heard when discussing sports statistics, that even the mathematical nerds can't overcome with more numbers. Memories matter more than hard data.They just do, and they always will unless we all become emotionless beings. It's a relatively new phenomenon that statistics are what carry the general public's choice as the best player in the world. Look at Pavel Nedved's season when he won the award back in 2003 beating out Theirry Henry's amazing season for Arsenal. Unfortunately, we aren't robots and emotions come into play in our decisions. Humans make these choices, and what Luka Modric did on the stage of the Champions League and in the World Cup put him head and shoulders above everyone else. We love stories, and Luka was the perfect underdog story for the year. If you look at the numbers, Modric had one goal in La Liga in the 2017-2018 season and had six assists, hardly mindblowing numbers. This generation has come to expect numbers along with the award because of the outright dominance from Messi and Ronaldo, but excellence can come from elsewhere. The last notable time this happened was when Paolo Cannavaro received the award back in 2006 after he captained his Italian team to win the World Cup. 
Luka Modric was the architect for so many memories for so many people over this past season. He was the glue for Real Madrid's conquest towards a third Champions League title in a row, providing stunning displays going forward, but also in the gritty side of the game. Luka could be compared to the Greek God Atlas, who holds the entire world up around him. Modric holds up the rest of his teammates, propelling them on towards success. What he did for his country in the World Cup is a display that will live long in the memory of not only his country, but the entire world that watched. He even demanded the attention of casual fans who had never heard his name before. In all of the big moments that he was called upon, he stepped up. The runs he made in some of the overtime periods against his World Cup opponents drew oohs and ahhs from even the most seasoned and hardened analysts. It also might mean something when Messi and Ronaldo both voted Modric ahead of themselves and each other; they might know something about who should win. Don't let Messi and Ronaldo's superstar status shadow your opinion of what Modric did this year. Modric provided us with the memories and captivating spells this season. He deserved this award. Let those memories live.