Michele Mouton: The Coolest Woman You Haven't Heard About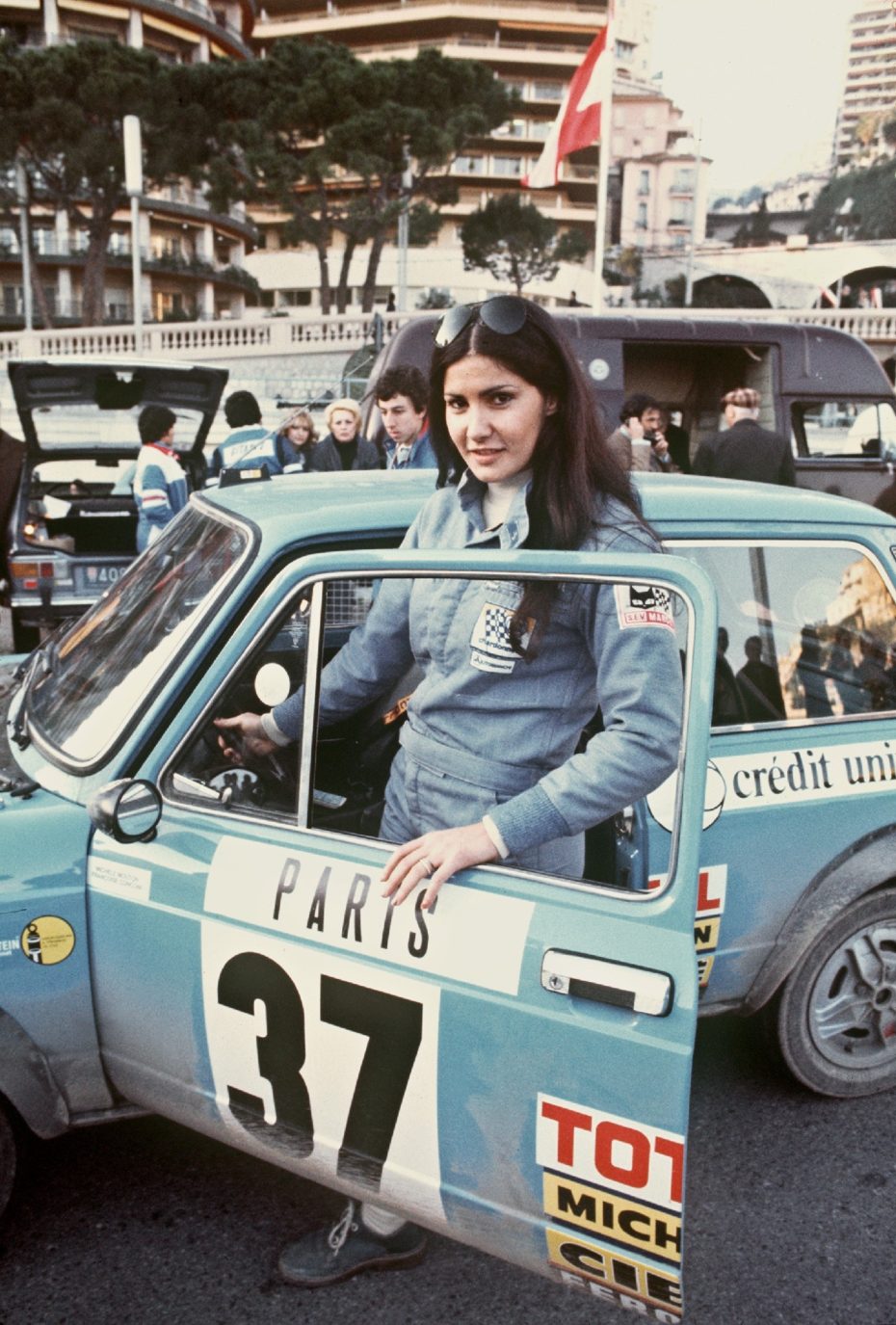 "Superwoman" "The Black Volcano" "The Woman Who Disturbs" 

Ok, let's set the scene. It's 1986 in the snowy German countryside and a white Peugeot 205 crosses the finish line for the German Rally Championship. There's no thunderous reception at the finish, when out steps two women. A French and an Italian woman driving a French car have just won in Germany. It's a symbolic victory in more ways than one. The driver, Michele Mouton, has not only given the middle finger to the all male field by winning the competition, she's proven her worth to Audi Sport, the team that forced her out in Audi's own backyard. In a time where racing was very much seen as a males-only sport, Michelle Mouton broke the boundaries.
It's a win that symbolized who Michele Mouton was, a woman driver who year after year beat the male competition, and paved a way for women in racing. Michele Mouton was kicking butt and taking names before it was socially acceptable to do so in the male dominated sport of racing. Other drivers would be upset to lose to her, but she would even step up her trash talk. While the male drivers she faced might have hated her, fans of racing absolutely adored her tenacity, fearlessness, and driving ability. She was the role model girls needed in the racing world, and she has become a legend in the years since her Group B days.
Nikki Lauda, one of the greatest drivers ever, called her, "Superwoman."
She earned the nickname, "la femme qui dérange," (the woman who disturbs) due to the way she emasculated her male rivals in the sport.
She was the first female to win a world rally championship, and the only woman to win a Group B rally championship.
Now I want to touch on Group B for a second, just so you understand just how amazing she was. An incredibly fast car today can go from 0-60 mph in 2.5 seconds on the road. These Group B cars would go 0-60 in 2.5 seconds ON DIRT AND GRAVEL. These cars were pushing their drivers like never before due to Group B's extremely light regulations, which ultimately led to it's demise after a few deadly crashes. Car manufacturers were constantly experimenting with just how fast they could make these cars go on rough terrain. There's a famous quote that said, "The World Rally Championship is for boys, Group B is for Men," and a woman was showing them up! 
After a few years rallying successfully for Renault and even Porsche(!) she was picked up by the kings of rally at the time, Audi, in 1981. Audi was using the pioneering Audi Quattro in their races, which was the first car to use all wheel drive in racing. For Audi to pick up a woman sent shockwaves around the sport, and a lot of men weren't happy that she had taken the coveted spot. Whenever she took the stage though, she proved she deserved to be there. In her first year, she won the Rally Sanremo in Italy when before the race, the former champion said, ""Never can, nor will I, lose to a woman."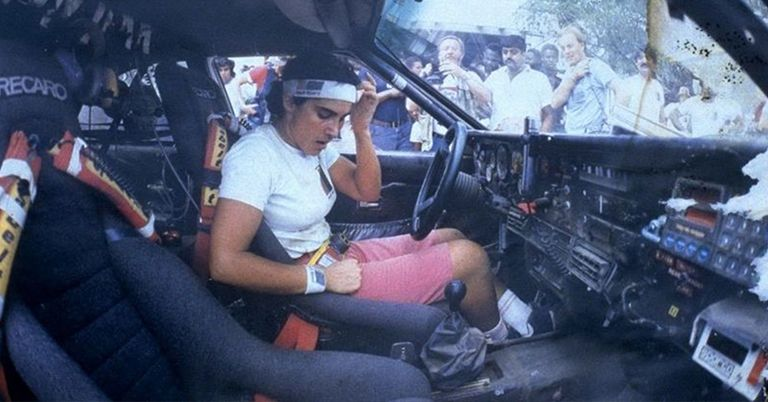 She probably had her most infamous battle in 1982 when she went up against another rally legend, Walter Rohrl, who at the time was racing in an Opel car. Rohl was quoted as saying, "A monkey could win driving an Audi Quattro," when asked about Mouton's chance of winning the championship. Going into the deciding race of the year, it was between Mouton and Rohrl to decide who would take the driver's championship. Before the race, Rohrl said to the news, "I would have accepted second place in the championship to Mikkola," he said, "but I can't accept being beaten by Michelle. This is not because I doubt her capabilities as a driver, but because she is a woman."
Ultimately and unfortunately, it would be out of her control though. Mouton's Audi Quattro would suffer from multiple mechanical problems in the African heat. She would roll the car just a few stages before the end under the bumpy and treacherous terrain, and she would have to withdraw from the race ultimately handing the driver's title to Rohrl. They would become teammates a couple years later when Rohrl signed for Audi, and she would end up gaining his respect. After that year, she would win more individual rally competitions, but she would never compete for the driver's title like she did in 1982. However, she would help Audi win several championships for the team. Mechanical problems and wrecks would be a constant frustration for her, and after being demoted to a test driver in 1985, she left Audi to move to a team from her home country: French manufacturer, Peugeot. 
Her greatest achievement probably came at Pikes Peak in 1985, where there is the famous hill climb competition. She got back in her Audi Quattro, and she not only won the hill climb, but destroyed the previous record by an astounding 13 seconds. The record had been held by the Unser family for three generations, each son beating the record of his father, and when it was broken, Bobby Unser, the former record holder, was vocally upset. Michele responded with the quote, "If you have the balls you can try to race me back down as well." That pretty much shut him up.

Going into 1986, there was an eerie feeling around Group B. The cars were getting too dangerous, and the popularity of the sport meant fans were lining the track without any barriers between them and the cars leading to scenes like this: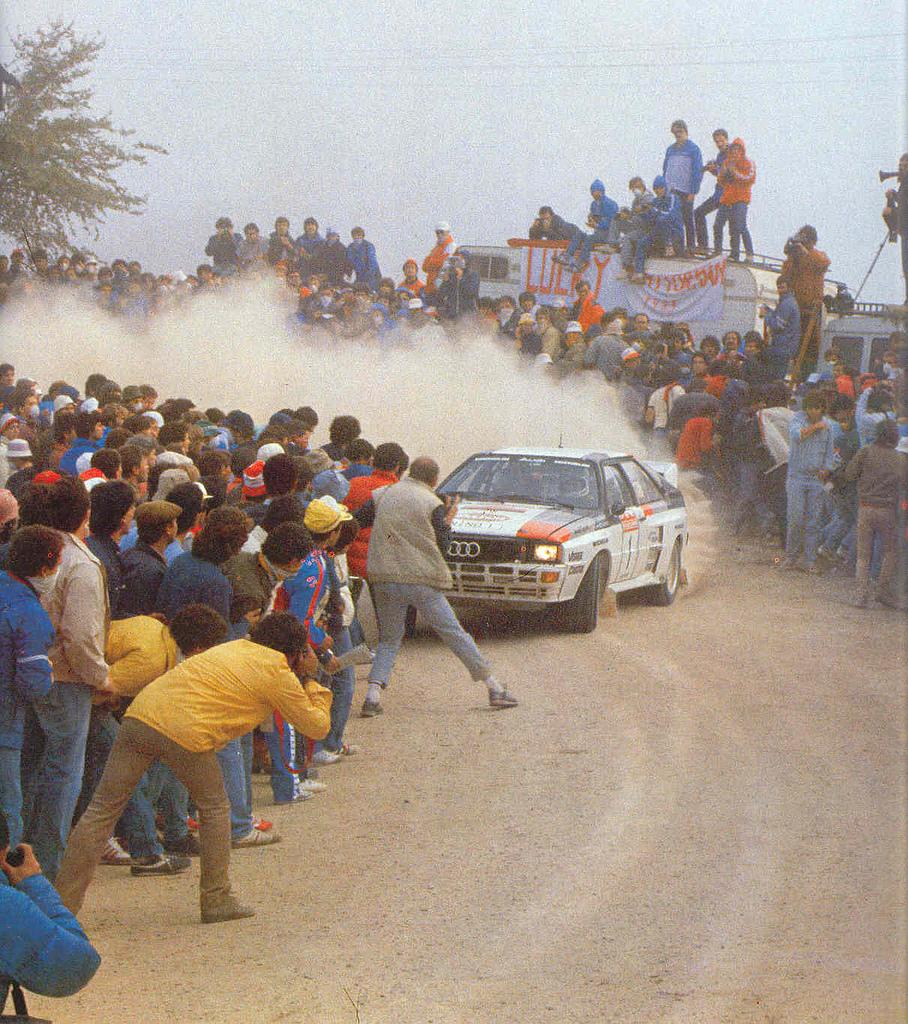 That year though, we saw Michele Mouton stick it to her former employers by winning the German Rally on Audi's home turf. She had been racing since the mid-70s, and she was thinking about formally retiring from rally because of the growing pressure and insane specs from some of these cars. Famously, the Lancia Delta S4 did a lap around Estoril that competed with the F1 cars at the time, and they were racing on dirt, snow, and gravel. Later in the season, her friend Henri Toivonen died after his car went off a cliff and exploded, and the Group B rally competition was officially cancelled after that season. She saw that as the best time to retire, as she was distraught by the stress and tragic scenes that year brought out.
She wasn't completely done with racing after the demise of Group B. She continued to help Ari Vatanen in the WRC and would participate in long distance races. In 2000, she got 2nd in the London-Sydney Marathon rally, and in 2010 she also got 2nd in the Rallye du Maroc, an event that was cancelled before she could compete in the 1970s, but then restarted. She was told by rally drivers at the time that she wasn't a real driver until she did the Maroc, so it was a way for her to have one last victory against her male rivals. And she did it behind the wheel of a Porsche 911, an incredibly difficult car to handle. 
Michele Mouton is the most successful female driver of all time, and she's a female icon that should be wider recognized in the world of sports. She paved the way for future drivers, but we will never see anyone like her ever again.